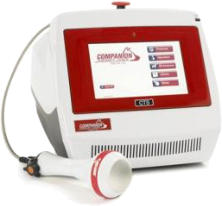 Laser therapy is a new type of therapeutic cold laser that can provide remarkable relief from chronic pain for your pet companion.
Benefits of Laser Therapy for Your Pets
High-energy laser therapy can penetrate deeply into the body to diminish pain and stimulate healing. Many pets suffer from chronic pain due to arthritis caused by hip dysplasia, spondylosis, traumatic injury, etc. A class of drugs, non-steroid anti-inflammatories (NSAIDS), has provided significant relief from pain, but long-term use of these drugs can have some undesirable effects. In addition, some animals are NSAID-intolerant. Cats are particularly sensitive to some of these medications, so there are fewer pain management options available for the feline patient.